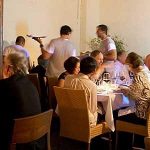 Eva Restaurant is your local culinary sanctuary of warmth, comfort and indulgence. It's the perfect place to experience unparalleled dining with family and friends in a communal setting. Our focus is to provide attainable quality, with savory ingredients resourced from around the world.
"The food at Eva is the real thing," to quote Jonathan Gold. "The strength of Eva is the relaxed but remarkably detailed cuisine Chef Mark Gold puts out every night, the roasted beet salads dotted with candied walnuts and rich smears of burrata cheese; the bacon-wrapped Jidori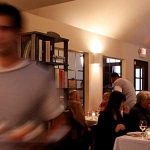 chicken sizzled in an oven until crisp; the seared but nearly raw scallops served with fresh porcini and slivers of luscious Regier Farms peach; and the linguine with clams reinterpreted as thick, stretchy Japanese udon noodles tossed with sliced garlic, littlenecks and a generous handful of chunky bacon. As for Tuesday's fried chicken nights, you'll want to make a reservation or be prepared to stand in line. As LA Times critic Irene Virbila simply put it, Chef Mark Gold "cooks exceedingly delicious food. He also has something very rare, a generosity of spirit that translates onto the plate." Mark was last at Leatherby's Café Rouge at the Orange County Performing Arts Center, and previously executive chef at Café Patina downtown and executive sous chef at Water Grill under then-chef Michael Cimarusti. Clearly a talented chef, Mark's dishes at Eva are executed with the skill of a first-class kitchen.
NEW Desserts: We are proud to announce we now offer award winning cakes and cupcakes for desserts from www.toptiercakes.co.uk. Come along and taste our latest creations.